Master Stoner
Master Stoner Liquid is a combination of natural cannabis extract and the delicious taste of e-liquid. The product will provide a wonderful taste and smell experience. CBD liquids are produced by KUSH brand, which is very famous among people who like vaporizing.

The biggest advantages of Master Stoner liquid are: attractive price, light, velvety taste, natural origin (the ingredients are not extracted from crystals), convenient bottle with a dispenser for easy application of the liquid and complete absence of harmful nicotine.
Taste the Master Stoner Liquid
It is an excellent choice for those who prefer a combination of enjoying the relaxing CBD vaporization and pleasant flavors. Master Stoner CBD can be ordered in many flavors, such as - berry and yogurt, mango, wild berry and even oatmeal. The excellent price - attractive for any budget - is 100% in proportion to the quality of the liquid.

Master Stoner CBD Liquids contain ingredients derived exclusively from hemp extract. The combination of cannabinoids with aromatic terpenes contained in the liquids provides a synergistic effect that enhances the relaxing effect. This gives a double effect without unhealthy and chemical enhancers.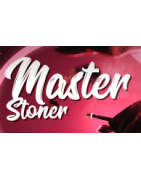 No products available yet
Stay tuned! More products will be shown here as they are added.